Weddings by She Said Sunday
When selecting entertainment for your wedding, think about what you want at your reception. Do you want a completely interactive experience that will have all of your guests up and dancing? She Said Sunday is an experience, and we love nothing more than getting everyone involved in our performances. We will put together a set list based on your preferences for music, but we have the flexibility to add songs as we're playing depending on the reaction from your guests. And of course, if there are songs you absolutely DON'T want to hear, we won't play them. Entertainment is the factor that will make or break your wedding or event - isn't it worth it to have quality entertainment from one of the area's best known bands?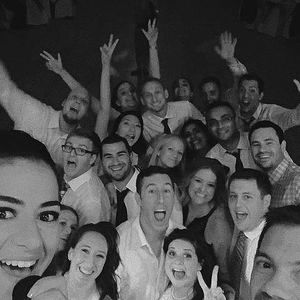 Why Book She Said Sunday?
We can play anything!  With both a male and female vocalist, we can perform any song, or do duets.Years of experience playing weddings, fundraisers and events. We understand how important your event is, and it's very important to us that your guests have a great time.  
Variety - we play rock, pop and dance songs, everything from 70s funk and disco, 80s hits, and current songs. Check our song list for all of the songs we currently know.  We are happy to learn new songs for your event.

We're a five piece band that sounds so much bigger! Generally, the more people in a band, the more expensive. With two guitarists, percussion and keyboards, we have the ability to replicate any song, whether it has horns or an orchestra background. We also pride ourselves on our three part harmonies which add an extra dimension to our performances.

We are a show. If you choose, we can bring our lighting system to transform your dance floor into one that rivals a hot dance club.

We want to work WITH you.  We are professional musicians and pride ourselves on our professional attitudes. We will show up on time, in appropriate attire for your function. We will not blow everyone out of the water with overly loud music (unless, of course, that's what you want, but we don't recommend it!).

We are regularly gigging musicians, which means we are performing almost every weekend and we're well-practiced. We play together frequently, are used to playing together (we're not just a random bunch put together just to perform for weddings), and there's a certain chemistry on stage as a result. 
Wedding couple testimonials
Michelle & Doug: "From the first email, SSS was professional and responsive. Since we were getting married at a private home and not a wedding venue, they made a site visit to see where to set up, discuss electrical requirements, etc. My parents are hard to please, but even they were impressed with how organized and accommodating the band was at that meeting. They worked with my husband to learn a song together. That absolutely made the night!
SSS followed our instructions and stuck with the songs that we requested. There were no surprises. As our wedding date approached and things got hectic for us, they followed up to make sure we were on the same page with the timeline for our evening and everything we wanted from them.  SSS did a terrific job of planning everything out ahead of time, and they had no problem when we had to switch to our rain plan and move the ceremony indoors. When it was finally time to party, they pleased the whole crowd! My husband and I have different musical tastes, but SSS has a great list of songs from different genres that we had no trouble find common ground. Everyone had a great time dancing. I have never in my whole life (including my 3 other siblings weddings) seen my mom get out on the dance floor like she did at my wedding. It was awesome! When I did step outside, everyone was talking about how great my husband's song was and the band in general. I have no hesitation in recommending She Said Sunday!"

Lynn & Rob: "She Said Sunday rocks! This band was highly professional, flexible, and provided excellent MC service as well as excellent music."

Maxine & Tyler: "We absolutely loved She Said Sunday from the beginning to the end of the process (especially the end on the Wedding Day). They were so amazing and catered to everything we needed including lending their microphone to our reverend. I couldn't give them enough compliments and I would recommend them to anyone because it is clear that they would be great no matter your venue, theme, or style. They were just AMAZING!!" 

Lori & John:  "We cannot say enough good things about She Said Sunday. The service we received prior to and during our wedding went far above any expectation that we had."

Cassie & Jim:  "I highly recommend She Said Sunday to play for any event you are having. They played at my wedding and were fantastic. They made the planning and even the event run very smoothly. They kept the guests entertained and the night was perfect!"

Lisa & Adam: "She Said Sunday is an awesome wedding band! They were so flexible and able to play literally anything. They learned songs for us, consulted with us many times before the actual wedding, and helped us outline the best reception. We couldn't be happier with their talent and their professionalism! We are still getting compliments on how awesome they were from our guests!"